Thought this from Anthony Beeson might be helpful to those subscribing to the blog who were not volunteers.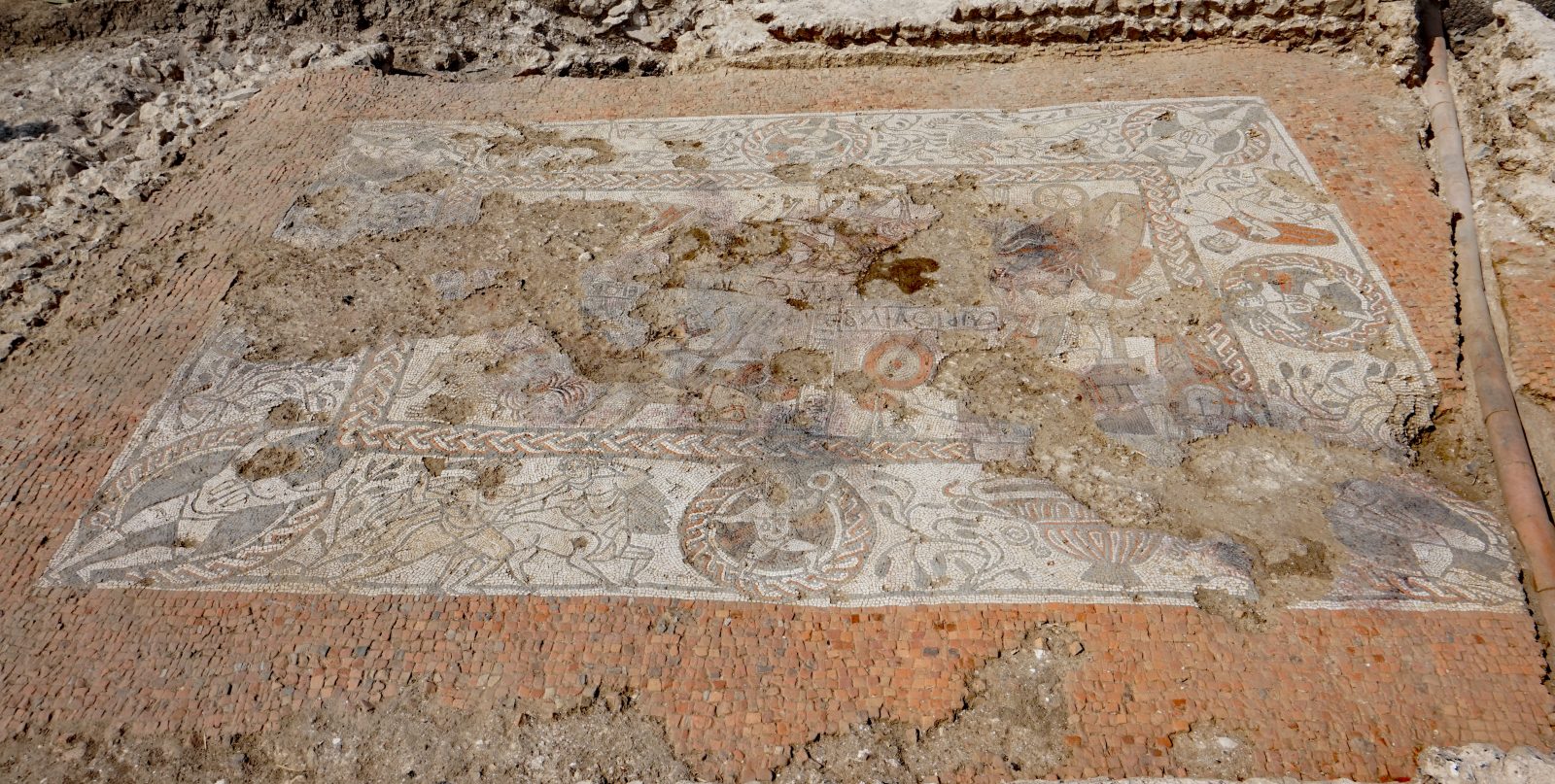 The Triumphs of Pelops and Bellerophon Anthony Beeson
This remarkable pavement is unlike any found in Britain for its originality, design and the subjects covered. It attempts a three dimensional or trompe l'oeil effect and celebrates triumphal feats.
Four telamons or giants stand at the corners supporting a pergola covered with guilloche (plaited rope) pattern. They step out of their roundels. They are so far matched only on a pavement in the Vatican museum, Rome. Four cupids holding the crown of victory burst out of their roundels on each side.
In this outer border Hercules slays a centaur and a cantharus (drinking cup) fill on one side. In the next border an archer possibly Pelop's son Alcathous, shoots at the Cythaeronian lion in the other border behind the back of the telamon. The fleeing lion is joined in the border by a figure about to bridle a horse which possibly represents Alexander's triumph over his steed Bucephalus when he turns it away from viewing its shadow.
In the centre of the mosaic one section shows Bellerophon on Pegasus defeating the terrifying monster Chimera, who had the head and body of a lion, the head of a goat growing from her back and a serpent tail, all of which shot flames. This is the finest representation of Pegasus found in Britain. The image was popular in Britannia and was gradually transformed into that of St George and represented the triumph of good over evil.
The main subject of the floor is the story of Pelops and his victory over King Oenomaus. Told that his future son in law would kill him, the king challenged each suitor to a race, but handicapped them by placing the Princess Hippodameia in their chariots to slow them down. All were defeated and beheaded. A panel shows Oenomaus presenting his daughter Hippodameia to whom a guard points. This guard is the only representation of a contemporary armed 4thcentury warrior found in Britain.
Below this panel. Pelops bribed Myrtilos, the king's charioteer, with promises of half the kingdom to replace a lynch pin in his master's chariot with a wax one so that the wheels came off and Oenomaus was killed. The funerary games and chariot races are reputed in myth to have been the birth of the Olympics. Myrtilos and Pelops argued and the former was thrown from a cliff, cursing his former friend as he died. Pelops' descendants were thereby cursed.